OPTION 1:
On Demand BFR Training Course
This option is best for rehab and fitness professionals who want to become a confident and successful BFR provider! Learn at your own pace, on your own time, and implement this skill set into your practice when you're ready!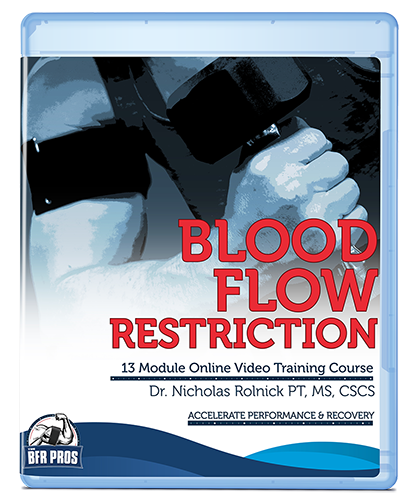 Blood flow restriction can help improve
patient outcomes and scale your business
This engaging and easy to follow course will provide health and performance professionals with the tools and scientific knowledge required to safely prescribe BFR training.
Introducing BFR into your practice will not only benefit your patients, it can also help you to scale your business by offering a new, effective specialization.
This course qualifies for continuing education credits with the following organizations:
We are approved/pending for PT/PTA in most states for 5 hrs of Continuing Education Units
OPTION 2:
BFR Masters Workshop
This option is best for Physical Therapy companies, gyms/fitness studios, and Athletic Training/Sports Medicine departments seeking to have their staff trained in BFR. Get your team ready to meet the growing demand for BFR with this live, private workshop!
THE BFR TRAINING ACCELERATE PERFORMANCE & RECOVERY/REHAB WORKSHOP
RECOVERY, REHABILITATION, POST-INJURY, POST-OPERATIVE, FITNESS, PERFORMANCE, STRENGTH, HYPERTROPHY 
Workshop Description
As THE BFR PROS, it is our mission to help clinicians, fitness & performance coaches grow your business by giving the most enjoyable, unbiased evidence based blood flow restriction (BFR) training workshops possible. We accomplish this through our customized edutaining curriculum that includes active participation from all attendees. Each single day workshop is divided into classroom instruction, & lab/demonstration with population specific case studies.
Class size: 15 attendees per instructor
This 1 day workshop is for Rehab Professionals who want to learn the science behind the power of BFR for the injured community. Upon completion, a BFR Training Rehab Participation Certificate will be awarded. Rehab professionals will have a complete picture of working with BFR within healthy and rehab populations.
LEARNING OBJECTIVES
Discuss evidence based exercise science concepts for building muscle mass and muscle strength.
Critically analyze to role of fatigue and its influence in muscle force production hypertrophy and strength.
Discuss importance of muscle protein synthesis within the injured, post operative, elderly, neurological and athletic populations.
Evaluate the benefits of BFR training & its primary mechanisms.
Identify inclusion and exclusion criteria for determining good BFR candidates.
Demonstrate Proper BFR equipment handling and BFR cuff placement.
Assess and implement limb occlusions pressure (LOP) for safety and effectiveness.
Discuss case studies and design a BFR training program for injured and healthy populations.
CONTINUING EDUCATION
This workshop has been designed for:
Physical Therapists/PTA
Occupational Therapists
Chiropractors
Athletic Trainers
Physicians
Students of all of these disciplines
Submit an inquiry below for Continuing Education info for your profession and state!